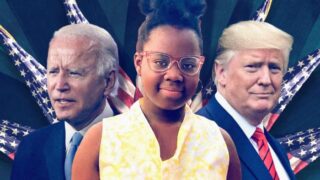 US Election 2020
Rookie reporter Zo tells us about the upcoming US Election.
リーディング&リスニング "US Election 2020"
留学するための無料英語学習教材 オーストラリア人気教育番組 "BTN"
エピソード29の "US Election 2020"を リーディング&リスニング。
公式サイトから字幕付きで視聴するか、動画と字幕をダウンロードして携帯で繰り返し再生できます。最新の時事問題の勉強にもなり一石二鳥です。音声のみファイルもダウンロードできます。
Introductionの内容
In just a few weeks Americans will go to the polls to choose the next President of the United States. Our rookie reporter Zo tells us more about the candidates, the election process, and why many say this election is particularly important.
ほんの数週間で、アメリカ人は次のアメリカ合衆国大統領を選ぶために選挙投票に行きます。 ルーキー記者の"ゾー"は、候補者、選挙プロセス、そしてなぜこの選挙が特に重要であると多くの人が言うのかについて詳しく語っています。
Hey BTN, I'm Zo. I'm 11 years old and I live in Brooklyn New York with my mum my dad and my little brother. Right now, all everybody's talking about is the election next month. I asked my friends about it.
MAX: I have been hearing about the election from parents, school and TV and I'm excited to hear what's going on.
ZARA: I'd like to know what the future's going to look like because at this point whoever is elected to be president is really like shaping how the world is going to look like for us in the future.
So I wanted to fill you in about them. Let's start with the presidential candidates. You probably know about Donald Trump already he's the current US President. And you might recognise Joe Biden too. He was the Vice President for 8 years when our last President Barack Obama was in office.
ZO: Elections work a bit differently than they do in Australia.
For starters, you don't have to vote here. People choose to vote or not. And the election is always held on the same date every four years, the Tuesday after the first Monday in November. And no, we don't have democracy sausages. Although they do look pretty tasty. We don't only vote for the party we like. We vote directly for the candidate we want to be our President and the person each candidate has chosen as their Vice President.
ZO: But the winner isn't based on who gets the most votes in the country. Instead, we have something called the Electoral College.
It's made up of 538 people known as electors. They represent all 50 US states and Washington DC. To be elected the President and Vice President have to get at least 270 votes in the Electoral College. It's kinda complicated but basically, whoever wins the most states wins the election. US presidents can also only serve two terms of four years each. President Trump has already served one and if he wins it'll be his second term as President.
ZO: Lots of people say this is a really important election because of all the big things that are happening in America right now.
There's the coronavirus, which has had a big impact on us. In fact, even President Trump tested positive for coronavirus this month which was big news. And you might remember those big protests across America against racism and police shootings.
MAX: I think the Black Lives Matter protests will have an impact in the election because people are starting to see that black lives matter and that people should be treated equal and I also think that coronavirus will have an impact on the election because Trump messed up and over 200 thousand people died.
ZARA: I definitely don't think that Joe Biden and Kamala Harris are the best option to be president, but at the moment this is our best shot.
But not everyone feels that way. A lot of people really like President Trump and think he's been doing a good job and should keep doing it for four more years.
ZO: The election will happen on November 3rd and I'm going to go with Mom and Dad when they go to vote. And when I'm old enough, I'm going to vote because I want to make a difference in this country's future.
ZO: I hope that's helped you understand a little bit more about what's happening in America right now. Bye, BTN.